Our homes need to be regularly maintained. One part of its maintenance includes the roof. The roof should go through a thorough cleaning at least twice a year. This is especially important when it comes to houses located in temperate countries. The roof will collect a lot of debris during winter that will have to be cleaned out in the spring.
If you go through a particularly harsh windstorm or a heavy snowfall, it is better to inspect the roof more frequently. You can consult a best roof contractor who is an expert at roof restoration in the event of a major problem. Some maintenance can be carried out on your own. If you're planning to clean the roof on your own, it is better to start working from the top and the progress downwards. You will have to use a stable ladder and it is better if you're working together with another person. You have to make sure that you're safe. Therefore, you can protect your hands by using work gloves and use goggles to protect your eyes. You should make sure that you don't walk on the roof a lot.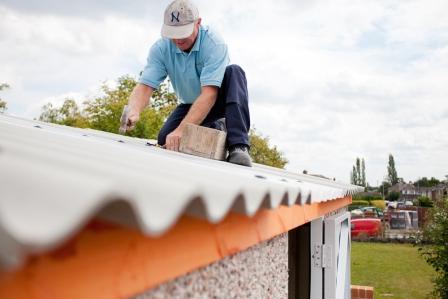 Inspect the roof for debris such as leaves, twigs etc. that you can sweep away with a broom. You can use a snow rake to remove the thick layer of snow on the roof. Watch out for moss and mould as well. You can get rid of them by scrubbing the patches with a long handled brush. Clear our nearby branches so that the roof is protected from falling branches, fruit etc. This will also prevent animals from getting onto the roof. The gutters can get blocked by an excess of debris. If this is left unchecked, there will be rusting of the gutters and seepage. This will lead to gutter repairs. You can clean the gutters by using a gutter scoop and a garden hose. Make sure that you clean the downspouts as well.
If you have a chimney you will have to clean that as well. A chimney cap will make sure that no birds or pests could get inside. You need to check the roofing material as well so that you can spot missing, cracked or loose shingles. You will need to replace or repair them. The flashing on the exhaust pipes, chimney and the vents have to be examined as well. The attic has to be examined for sings of leaking water such as mould, dark patches and dampness. If you see any sings of these, they have to be taken care of immediately.